Description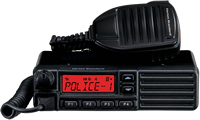 The VX-2200 Trunking mobiles are full featured FM transceivers designed for flexible mobile business communications in the VHF or UHF Land mobile radio bands. These transceivers are designed for reliable business communications in a wide variety of applications with a wide range of operating capability provided by their leading-edge design with high output power (50 Watts VHF and UHF). The VX-2200 Trunking mobiles have an eight character alpha-numeric display to manage.
These mobile can be ordred as LTR™  or Passport™!
Wide Band Coverage
VHF 134 ~ 174 MHz / UHF 450 ~ 512 MHz The VX-2200 LTR continues with our efforts to give you the maximum flexibility possible with ultra-wide band coverage.
32 Zones/250 Groups
The VX-2200 LTR gives you 250 Groups to get the job done.
Passport Upgradable
The Trident Passport enhanced system is being developed for this mobile. The Passport features will require only a firmware update !
Loud Front Speaker Audio
The front facing speaker and 4 Watts of audio power give you plenty of receiver audio even in noisy environments.
Higher Power
With 50 watts output on VHF and UHF, the VX-2200 LTR have the power to get your message through.
Stun / Kill / Revive included
In either Conventional or LTR systems you can stun or kill a unique radio in the field using reliable and fast 5-tone signaling.
DTMF Signalling
DTMF ANI as well as DTMF Paging are both included in the new LTR mobile.
Inversion Scrambling Included
No need to add additional dollars, the encryption is included. For higher security, you can add the FVP-35 rolling code encryption.
Six Programmable Function Keys
Each key (4 keys plus UP/DOWN keys) can be programmed for up to two functions each. This gives you an enormous amount of flexibility to put as many features to use as you need.
Emergency Features
Excellent for school bus drivers, delivery vans, or any other application where you do not want the driver to be "on their own". With the built-in Emergency feature, a silent alarm can be sent and transmit live audio to the dispatcher.
Mil-Spec Rated Durability
The Ultra-rugged design of the VX-2200 LTR mobile enables it to be fully compliant with the demanding specs of Mil-Std 810 C/D/E/F!
RSSI
The large easy to read front panel display also shows received signal strength.
DOWNLOADS
Land Mobile Radio\Technical / Service Support\Manuals\Operating Manuals
VX-2200_LTR_OM_EN_2013 (300.62 KB)
VX-2200LTR_OM_EN_2015 (1.11 MB)
LMR\Sales Support\Spec Sheets – North America
VX-2200 Trunking Series Spec Sheet – North America (1.18 MB)
Vertex Standard Trunking Mobiles Accessories
Vertex Standard Trunking Mobiles Accessories